CONFERENCE HOTEL
YOUR 4-STAR CONFERENCE HOTEL NEAR VIENNA
You are looking for an easily accessible conference hotel close to Vienna, where you can indulge in nature`s calm and enjoy the best facilities for your conference? Search no more: The Pannonia Hotel Parndorf combines modern design, warm hospitality and a central location just far enough away from the stresses and strains of everyday life.
NOW REQUEST IT!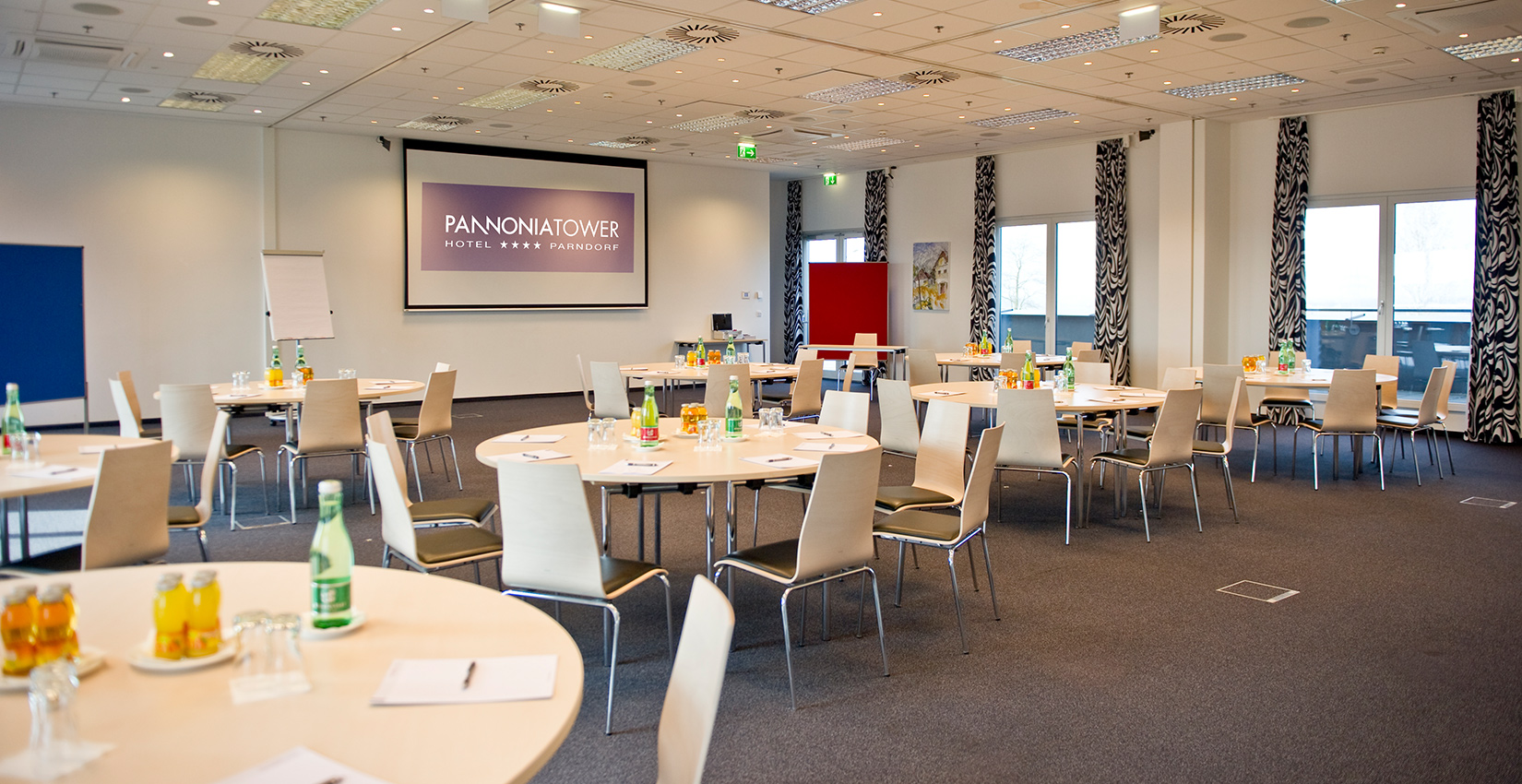 YOUR 4 STAR CONFERENCE HOTEL NEAR VIENNA
The combination of our long-term experience and knowledge in the event sector and relaxed atmosphere are the ideal prerequisites for successful congresses, seminars, or conferences.

Only if our guests are satisfied, then we are too- therefore we set high standards for ourselves: We know what to focus on and work on our love for details in order to offer the perfect service and the optimal, technical support to ensure a satisfied stay from our arrival to your departure. Lay back and only focus on our topics, we will take care of the rest.
BEST LOCATION, WITHOUT QUESTION!
All roads lead to Rome? Wrong! All roads lead to the Pannonia Tower Hotel Parndorf: Our outstanding location outshines with its excellent transportation connections from and to the capital cities Vienna and Bratislava and additionally to their international airports. Furthermore, our train station Parndorf lies only 2 kilometres away from the Pannonia Tower Hotel, your Conference Hotel near Vienna.

Nothing stands in the way of your international conference attendees to arrive after an uncomplicated journey. Your guests will arrive stress-free and will therefore start working relaxed and full of energy in your Conference Hotel near Vienna.
Room to think, room to work:
Conferences and seminars at the Conference hotel near Vienna
A good idea needs room to grow: This is ensured at the Pannonia Tower Hotel Parndorf. Let yourself be inspired by the calm: Away from the hectic and noisy big city, however close to nature and yet modern comfort, you can completely dedicate yourself to the relaxed atmosphere and your topics. Due to our flexible spatial solution and unusual architecture, our Conference Hotel in Burgenland offers the perfect location for events of various sizes:
We can offer the perfect room variations for your meeting of up to 300 people, due to our mobile partition systems in six airconditioned conference rooms. Light flooded conference rooms, High-Tech facilities and our professional service ensure a successful conference at our Conference Hotel in Burgenland.
Profit from our modern presentation techniques such as touch-panels, a board meeting room for exclusive meetings on the 12th floor and a fantastic sound system in all our event rooms.
For all of those who want to reach for the stars, the Tower Lounge offers the perfect location. Over 100m2 event space this exclusive ambiance is the highest event location in Burgenland and offers not only an amazing view of the region around Lake Neusiedl but also ensures that your event will be an unforgettable experience.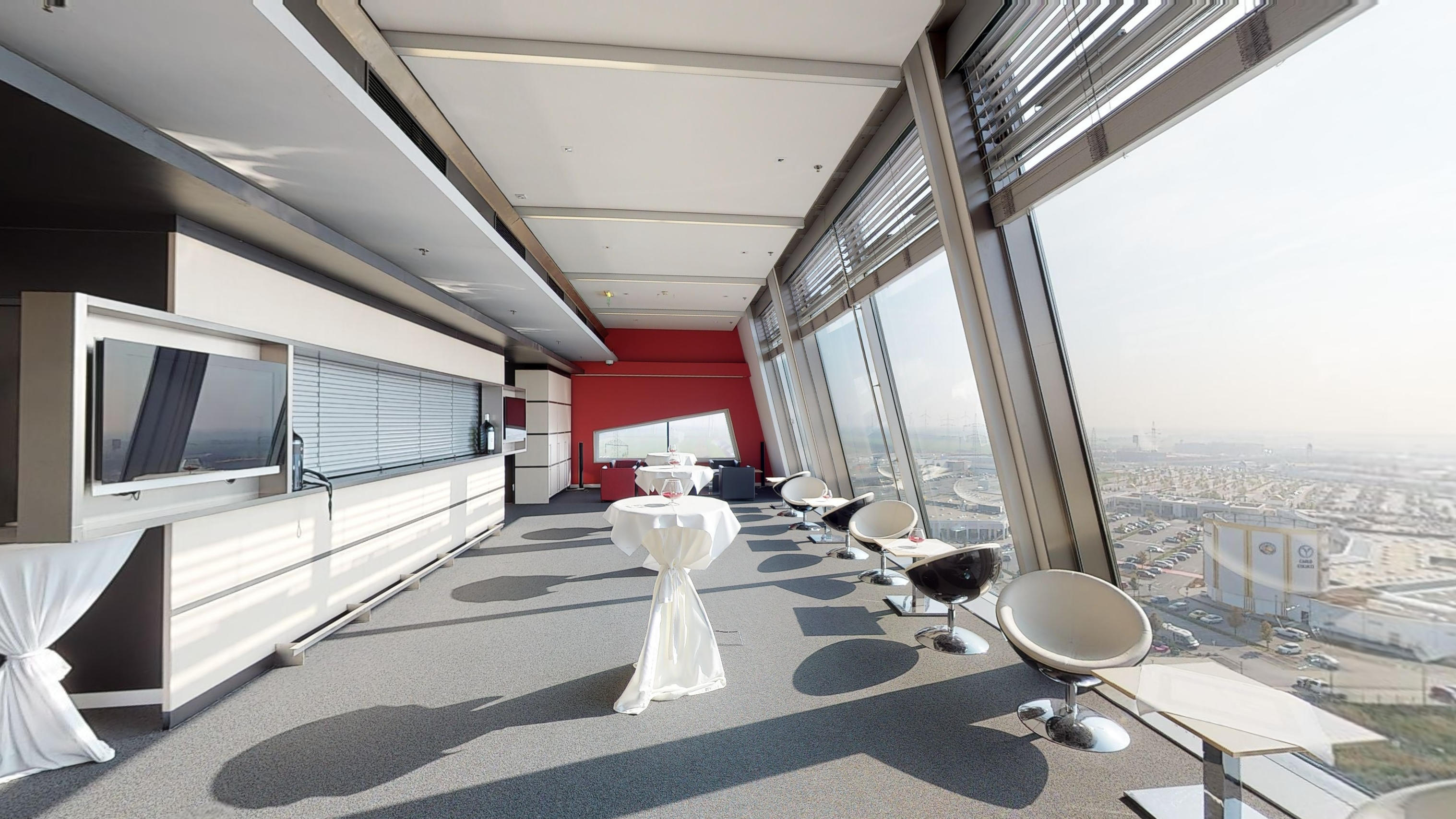 If you need and help to plan your event or conference at our Conference Hotel Burgenland, you can fall back on our network competent partner company: We can refer you to contacts such deco planers or event agencies.
WITH STYLE AND PLEASURE
IN THE HOLIDAY EVENING
After work is before work- This refers to conferences, congresses, and seminars. We know how exhausting a long workday can be. Therefore, it is our intention to offer our guests a relaxed free time: Our 117 modern facilitated double rooms as our exclusive panorama suite on the 12th floor let our guests lean back and relax after a long and exhausting day of meetings: Time, to reflect the new information. Room, to lay back and get energised. Sauna, Infrared cabins and gyms invite you to actively gain energy, while shopping fans can find their perfect after work experience at the neighbouring McArthur Glen Designer Outlet Parndorf and Fashion Outlet.

Culinary greetings are tradition in Burgenland: Our creative kitchen staff at our hotel restaurant Ventus, offers the highest level of catering and spoils you with delicious food while enjoying the perfect ambiance at the Conference Hotel near Vienna. If you want to relax with a good glass of wine, will find the perfect choice in our exclusive wine menu at our hotel bar.
UNFORGETTABLE TEAM EVENTS
AND FRAMEWORK PROGRAMS
Sporty adventures, culinary experiences or discovery tours through history and culture of the region will surely give you new impressions will make your stay an unforgettable experience. Would you like to try team sailing, stand-up paddling, or kitesurfing? Tackle new challenges together in your free time? Whoever Is big on teambuilding will find numerous possibilities in the regions around Lake Neusiedl. However, if you are more the relaxed and laidback type who believes in the connecting powers of wine, you can for instance dive into the daily life of our regional wine growers and make your own wine. You and your team will learn about its journey how wine is made.

Together with experienced partners from the incentive area, we will plan and organise the perfect framework program for your event tailored to your wishes, at your Conference Hotel near Vienna. With our wide range of organisational possibilities and professional know-how we will ensure a successful conference: We are looking forward to your inquiry.